Domain manager registration FAQ
The Zelwe domain manager is a safe where you can register and manage all your domain names in one place.

(Actual screen shot)
---
We eat our own dog food!
This page you are reading right now was registered, built and is being shown by the domain manager we are discussing here. It's purpose is to demonstrate the technology by showing a practical example of how a very focused product page can be built and publised using a domain name registered for that specific purpose.
Everything you see here, you can do too.
---
Frequently Asked Questions
---
Do I need a domain name?
Unless you register your company or product name as soon as possible someone else might - and it will take a lot of trouble and time to get it back. (Even if you have a trademark or registered copyright)
The first person to register a "generic" domain name, like "shoes.co.za" will have a permanent advantage over any other business selling shoes. This holds true for virtually any business you can think of: computers, cars, flowers, news, construction, programming, etc.
Why stop at one domain name?
Domain names are very affordable and can be used to promote specific services or products in support of your main web site or to enhance marketing campaigns. A portfolio of domain names in support of your product, service or marketing campaign are cost effective, flexible and superb value for money.
How much does it cost to register domain names?
It depends on the "kind" of domain name you are registering - commonly known as the "top level domain" or "tld". For instance, zelwe.net is a .net tld and zelwe.com is a .com tld.
Different organizations look after .tld's so pricing varies by the .tld you are registering - when you perform a domain name search, the domain manager will show pricing for each of the available domain names it found.
What do I get?
You get a your co.za, .com, .net etc domain name, a sophisticated and easy to use web application to manage all your domain names in one place, to edit their web home pages, forward your domain to another URL, link to your social media, effortlessly swop between ISPs and more.
Do I own my domain name?
Yes, you do. We register the domain name as your property.
This is an important question because we often talk with people who's domain name was registered by 3rd parties (even some Internet Service Providers) and are then unable to get their domain name back.
Not only do you own your domain name, you can manage it any way you see fit. If you decide to move your services from one ISP to another, simply login and make the change - you do not need any other service provider's permission or jump through hoops.
How does my home page work?
Your home page is served by the domain manager - just like this page is.
With your login ID and password, you can login at any time and click on any of the domains you own to change the content of your page, fonts, colors, layout and even upload a logo or graphic to display on your page. You can redirect your home page to any other web page, link it to your facebook, google plus or twitter pages. You can even show a Youtube video on your home page to showcase your product or brand.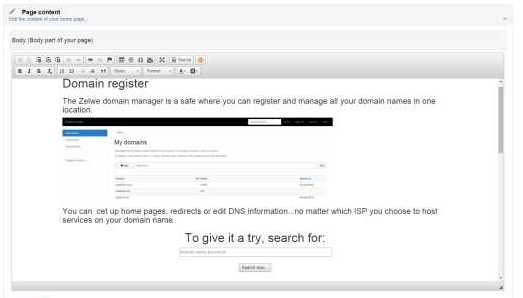 (Actual screen shot of the web page editor)
If you need more than one page, or database access, or other more sophisticated features found in web sites, then please contact us so that we can discuss full hosting for your site: many options are available.
Can I register other domain names like .com or .net?
Sure you can. And a whole lot others too.
How do I register domain names?
It is very simple really: Just complete the few easy steps to select the name and enter your information (so that the domain name can be registered as your property) and pay with your credit card. The whole process takes less than 5 minutes. All the technical details are taken care of automatically. Start here...
Can I manage my domain's DNS records?
Sure. Easy as pie. Here is a actual screen shot to demonstrate:

(Actual screen of the DNS editor)
Can I add email to my domain?
Not only can you add email, you can transform the way you work. See here...
More questions?
They don't call us consultants for nothing - just ask us.